Testimonials

Catherine Young – 16th March 2023
Hi Rachel just to say thanks to Richard yesterday great driving, Richard was very relaxed in heavy traffic and a lovely driver for our trip .
Catherine Young – 12th July 2022
Rachel just a word to say our trip was fantastic Allan was such a lovely driver he had some tough manoeuvres to face in Henley, but he was great (as are all the drivers I had for my trips).
Thank you,
Catherine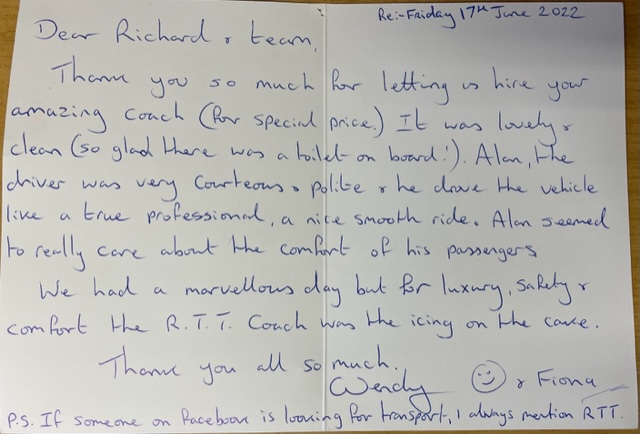 Wendy – 17th June 2022
Dear Richard & team
Thank you so much for letting us hire your amazing coach (for Special Price) It was lovely & Clean ( so glad there was a Toilet on Board )
Allan, the driver was very courteous & polite & he drove the vehicle like a true professional, a nice smooth ride. Allan seemed to really care about the comfort of his passengers. We had a marvellous day but for Luxury, Safety & Comfort the RTT coach was the icing on the cake.
Thank you all so much!
Wendy (Your Post Lady) & Fiona
P.s If someone on Facebook is looking for transport, I will always mention RTT.
Sheilagh Antony – 15th June 2022
Good morning.
I just wanted to say we had a fabulous day at Ascot yesterday. It was made more enjoyable by your company being sooo helpful from the time of quoting and booking the coach, to the driver picking us all up on time at all stops and dropping us back.
Huge thanks to Rachael and Jade who have been so great in dealing with all my queries (of which there were many)
Also, to Colin, who was fabulous driving us yesterday. So friendly, informative, and to his credit very patient with the Ascot stewards, when they insisted, he should turn down a road (that we had just passed, and it was clearly closed) They didn't believe him until 1 walked down and saw for himself. Colin was amazing and kept his cool throughout. What a star!
Thanks again Richard Taylor Travel, you have been amazing!! … See you again.
Sheilagh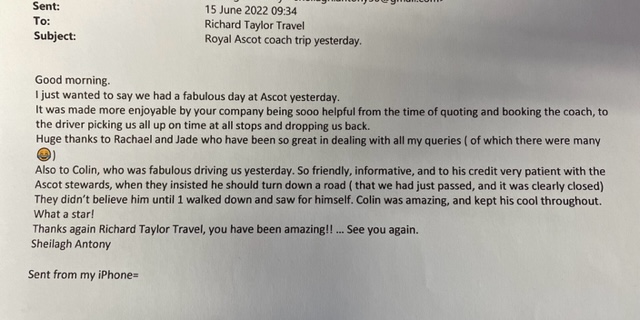 Julia Nicolson – 15th June 2022
Hi Jade
Just a quick note to thank you for a flawless service on Monday and Tuesday. In particular, please could you pass on my thanks to our driver (Simon) who was charming and helpful at all times. It was a pleasure doing business with you.
He was very professional, friendly and helpful. Please pass on our thanks.
Julia
Mrs Taylor - Office Manager – 13th June 2022
Good morning.
I have been asked to let you know that our staff were very impressed with the level of service provided by your driver yesterday.
He was very professional, friendly and helpful. Please pass on our thanks.
Kind regards.
Tina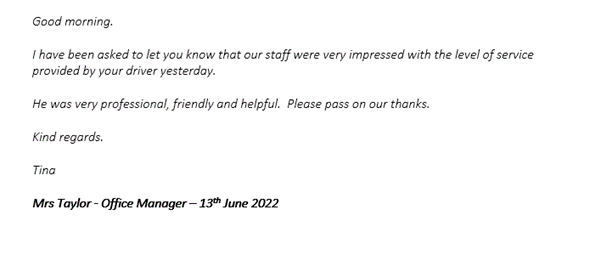 Justine Fancy - 29th March 2022
Morning
I have been meaning to send this email for the last few months.
The previous transport suppliers were unreliable and not very nice to the kids. However, the two drivers from Richard Taylor are amazing. If they see one of the kids is running late, they will pick them up along the road, they are there for a few minutes allowing the kids to get on board, in poor weather they drop the kids off closer to their individual houses and they are brilliant with the kids.
Please can you pass on my thanks to them as a happy parent of an appreciative child.
Thanks
Justine
Siobhan Mead – January 2022
Good evening,
I am writing to say a massive thank you to your driver Gerry Who drove the coach from Stevenage to the Royal Albert Hall and back organised by the Stevenage ladies choir on Tuesday evening.
He was so nice and helpful all the way and was exceptionally helpful to me with my guide dog. He took the time to describe surroundings and was a total pleasure to be around.
I was so touched, and still feel a little bit guilty about the fact that he donated his tip bag of around £20 towards a fundraising event I'm have on to name a guide dog puppy. This was way above and beyond anything anyone could ever expect.
Please do take this email as the highest thanks and praise to this wonderful driver.
Safe evening
Siobhan
Jenny Savage – October 2021
Hi Rachel,
A big thank you to you for organising the coach for us for our trip this week. I wanted to say how lovely Martin was - he was so accommodating and flexible as we had a few changes with our timings, which really helped. He was also really helpful during our stay at Letton Hall, offering to help and making vital cups of tea at busy times, so I wanted to take the time to write and say how much we appreciated all his efforts.
Do please pass on our thanks to Martin and I hope we'll get to meet him again on another one of our trips!
Best wishes
Jenny
Barry Brown – October 2021
Hi Rachel,
Just wanted to let you know that we had a marvelous day out care of your driver Dave on Sunday last.
After so long being stuck in lock-down, and unable to pursue our normal activities, it was a breath of fresh air.
To be able to meet up with our Blue Badge Guide and explore the mysteries of the Barbican Centre. It is the fullest trip we've ever done with 54 of us on the coach.
Marvelous day!
I've attached the booking form for the next walk, and sadly the last one for this year, for your information. and planning.
Many thanks again and regards
Barry
Tracey Rigby – 28th July 2021
Dear Jade,
Just a quick email to say thank you for the service you provided Friday 28th July - the driver was fantastic and very helpful.
And will definitely be booking you in the future.
Thanks again
Tracey
Barry Brown – June 2021
Dear Jade,
Just wanted to write and say a huge thank you from all of us who travelled to London on Saturday on one of your coaches. I have heard nothing but praise from those travelling, on the cleanliness and smoothness of the coach and the facilities offered within, such as (working?) air conditioning and a toilet that they were encouraged to use!
They even complimented the on-board safety brief, which we had never had before!!
As the group's organisers, we have to say we were thoroughly impressed, and particularly so by the driver Gerry, who was polite, professional, and extremely helpful: he could not do enough for us and made the whole excursion an absolute joy.
Once again, thanks for making us all feel a little more like VIP's.
Regards
Barry Brown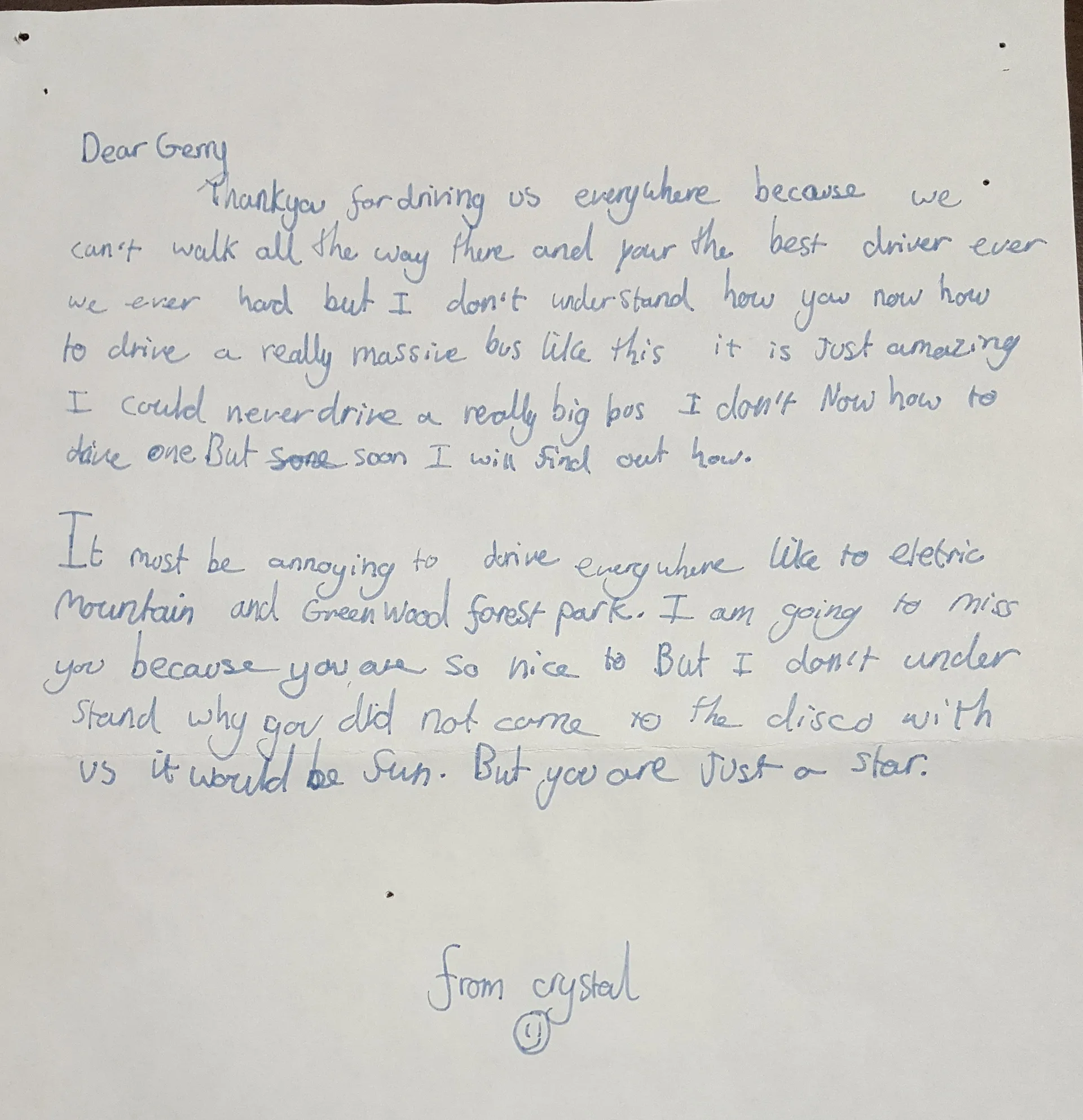 Wednesday, 10th November 2016
"Dear Gerry,
Thank you for driving us everywhere because we can't walk all the way there and you're the best driver we ever had, but I don't understand how you know how to drive a really massive bus like this, it is just amazing. I could never drive a really big bus, I don't know how to drive one, but soon I will find out how.
It must be annoying to drive everywhere, like to Electric Mountain and Greenwood Forest Park. I am going to miss you because you are so nice. But I don't understand why you did not come to the disco with us, it would be fun. But you are just a star.
From, Crystal :)"
Wednesday, 9th November 2016
"Richard Taylor Travel are competitively priced and great value for money. The coach that arrived for our most recent trip to London was luxurious inside and much nicer than any other coach company I have used previously. The driver was professional, welcoming and knowledgeable about our journey, and was able to navigate away from traffic to ensure we arrived at our destination on time. I look forward to booking with them for our travel arrangements again in the future."
Miss R Baker - Head of Media and Film at Knights Templar School, Baldock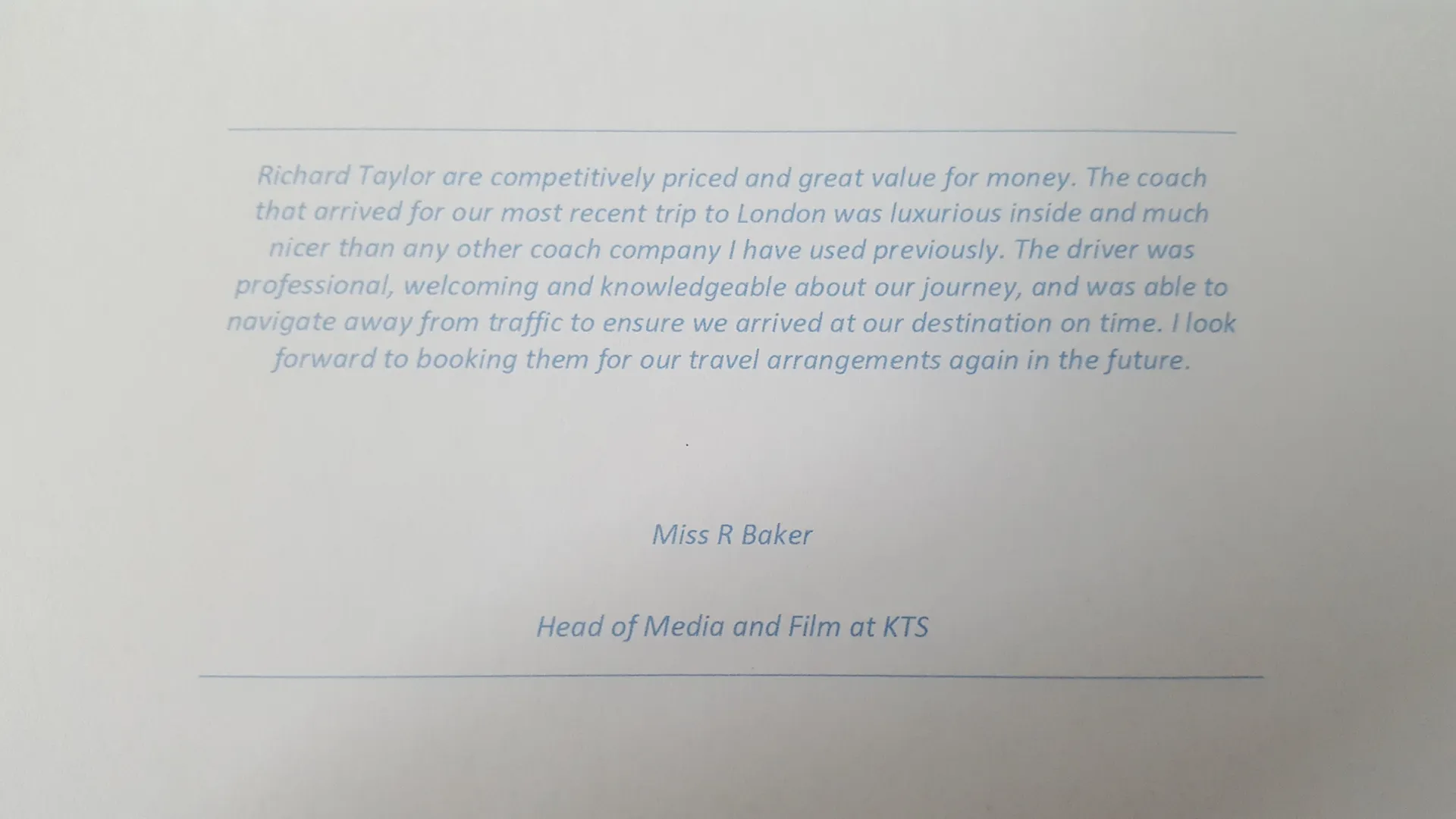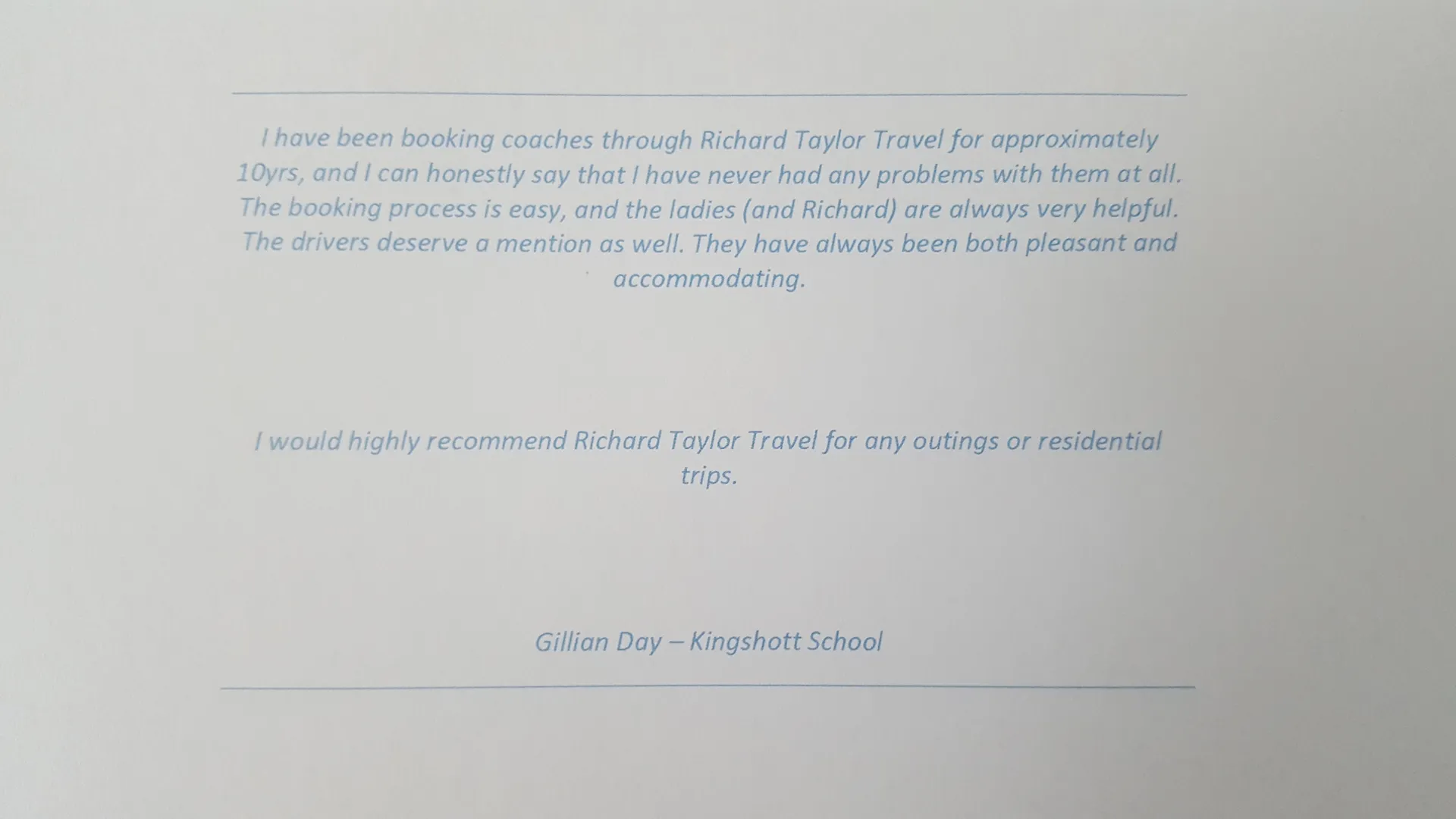 Tuesday, 8th November 2016
"I have been booking coaches through Richard Taylor Travel for approximately 10yrs, and I can honestly say that I have never had any problems with them at all. The booking process is easy, and the ladies (and Richard) are always very helpful. The drivers deserve a mention as well. They have always been both pleasant and accommodating.
I would highly recommend Richard Taylor Travel for any outings or residential trips."
Miss G. Day - Kingshott School, Hitchin
Tuesday, 8th November 2016
"We use Richard Taylor Travel as they are a local provider of a good and reliable service, who we can depend upon to fulfill our transport needs. They provide good customer service and go the extra mile if the situation calls for it."
Diane - Princess Helena College, Preston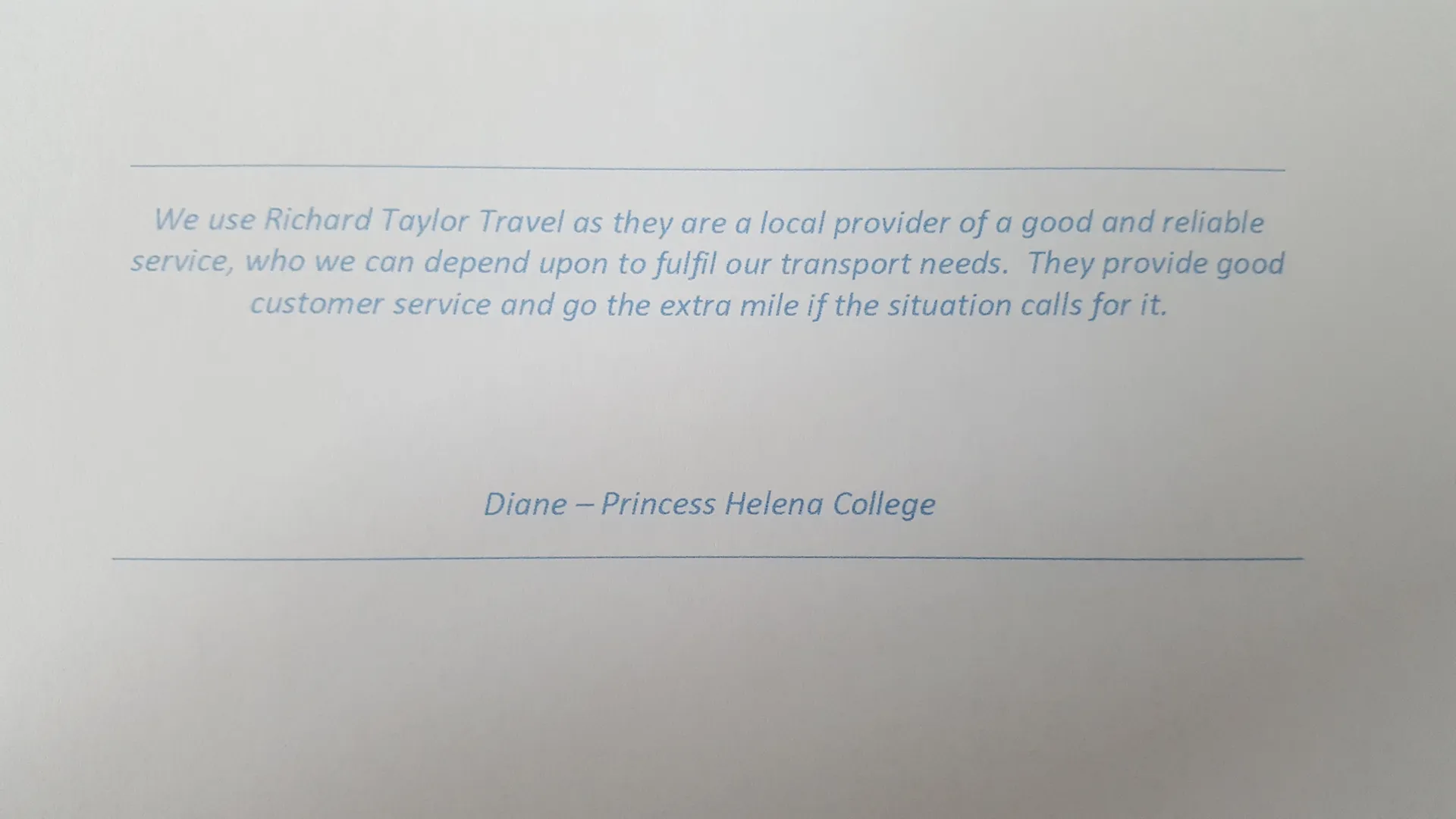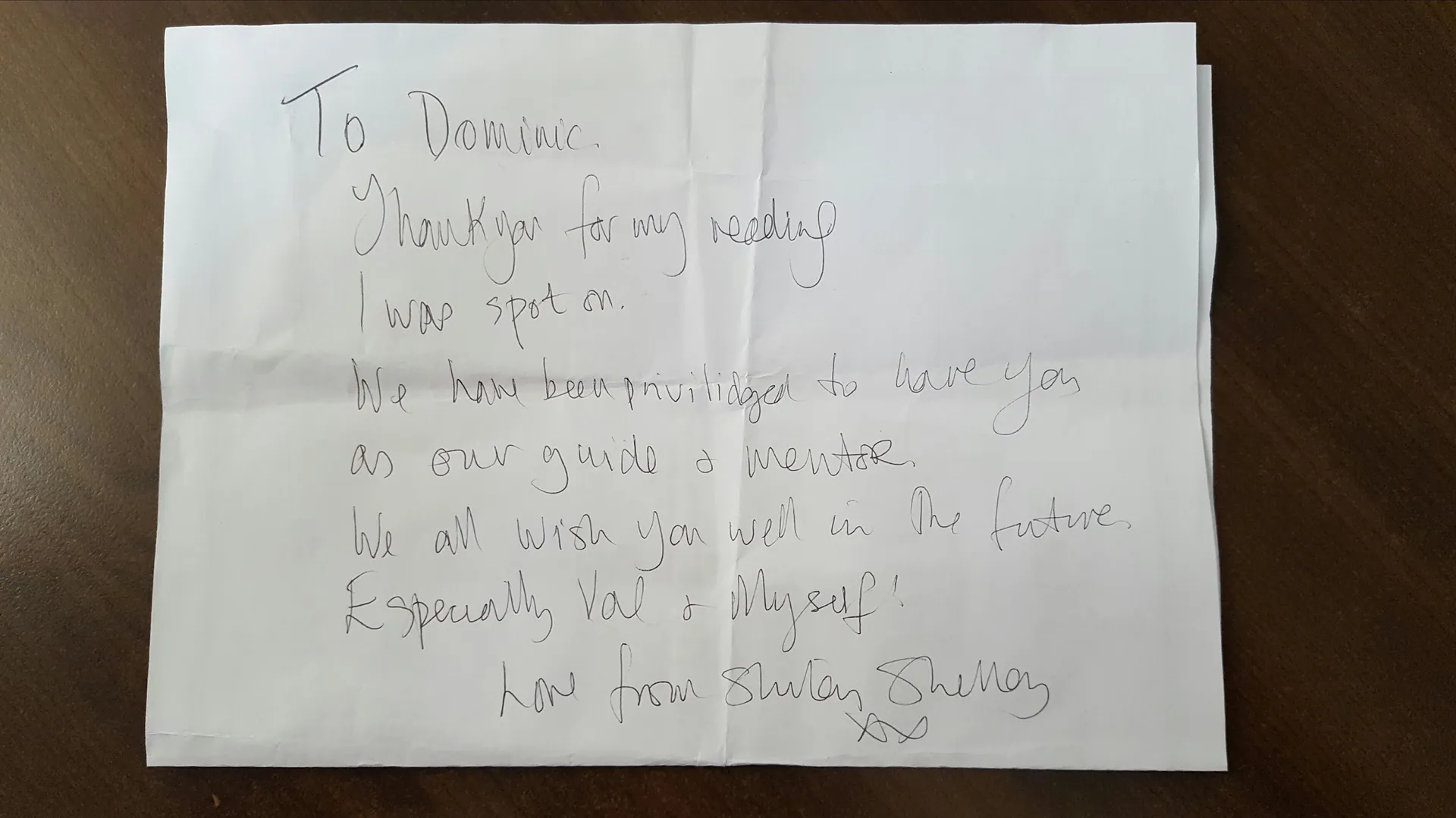 Tuesday, 24th May 2016
"To Dominic,
Thank you for my reading, it was spot on. We have been privileged to have you as our guide and mentor. We all wish you well in the future. Especially Val & Myself.
Love from Shirley Shelley"
Monday, 16th May 2016
"Richard Taylor Coaches have a fine ambassador in Dominic who is cheerful, sincere and drives his passengers with great care. He showed concern for those not so mobile both on the coach and off and checking that everyone was comfortable in the hotel. All in all a pleasure to travel with. Hope to meet him again.
Thank you,
W. M. Proctor"